Abagail Alfano lives in Pine, Louisiana–a convenient landing spot for migrating hummingbirds. Lucky girl, about 20 of the tiny birds took a shine to her backyard.
She admired them from a distance at first, but inched closer to them every day. She bought their confidence with sugar water, familiarizing them with her presence as she replenished their feeder. On the morning pictured here, she filled a little red dish with sugar water and…
…miracle of miracles, they sipped the nectar right out of her hand!


This is what some might call a holy ghost moment–a wondrous, shivery-magic experience that occurs when we least expect it. Serendipity, when we most need it to happen.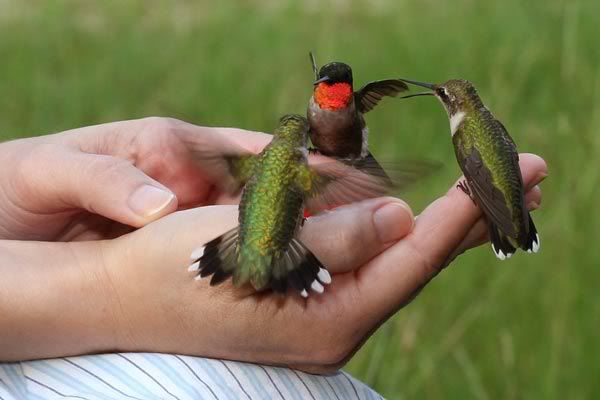 A similar thing happened for me just last week. Not with hummingbirds, but with my writing. I'm not a fast writer, as my long-time friends already know. I labor over each and every passage, down to the tiniest jot and tittle. But last week, glory be, I had an out-of-body experience in which the words flowed straight from my heart to the page, unedited and unrestrained. When I finally looked up at the clock, I was shocked to discover that hours upon hours had vanished altogether, leaving a trail of filled pages in their wake.
And so it is that I'm holding out that cup again this morning, asking in all humbleness for a similar blessing.
Although I've edited it slightly, I got this story in pictures from my friend Karen, who forwarded it to me in an email. For some oddball reason, she said it reminded her of me. J Snopes verified the original story, as did Abagail herself (photos via her husband, credited at the link).