I've done lots of event planning in my day. I've given speeches to large audiences, led seminars in closet-sized classrooms. But during a brainstorming session at Mother's Market one day, I asked my long-time yoga instructor, Megan McCarver, to consider teaming up with me on something entirely different—a fun challenge for both of us, each in our own way.
Megan said yes! Over the next few months, we explored several areas of mutual interest—yoga and writing, art and photography—and linked them a common theme. We reserved space at a Tibetan retreat facility in Soquel, California, and then we reached out to others: "Please join us for a weekend of Mindfulness and Imagination…"
Word spread, and our reserved spots went fast! People joined us from as far away as New York and Texas, and from cities all over California. Twenty people, all told. And no wonder—nestled into the mountains and surrounded by giant redwoods, Land of Medicine Buddha is at once peaceful and transformative. It's an ideal spot in which to meet kindred spirits, and to explore new possibilities.
Beginners unfurled their mats alongside long-time practitioners. Megan encouraged us to become aware of our comfort levels, to stretch the boundaries of our self-imposed limitations as we moved through a sequence of yoga poses. "Focus on the breath," she said, "Let it give you an opening."

California Lavendar
We hiked in the forest, ears attuned to the peaceful sounds of nature. Leaves fluttered in the cool morning breeze. Bees hummed in the afternoon sun. Birds sang lullabies to their hatchlings, tucked safe in their nests, and an owl called out, "Whooo? Who goes there?"

Prayer flags in a stand of redwoods
During silent meditation, we listened to own inner voices. That carried over into our Creative Art Journaling Workshop, where we explored new ways of translating our thoughts into words and images.

Creative art journal and inspiration
We faced our doubts, banished our inner critics. And with hearts wide open, we poured ourselves onto the page.

Margaret Avritt facilitates a writing session
The kitchen staff nourished us with delicious vegetarian meals, prepared in a way that promotes ethical practices and eco-sustainability. After an especially yummy lunch on Saturday, Stace Dumoski took us on a photography walk. "Taking pictures is very much like getting the first draft ideas down on the page," she said. "You won't really know what you have until you review the pictures later, so just focus on the experience for now. See what happens when you change your perspective . Use your zoom lens, switch positions. Tilt your head or turn your camera."

Stace Dumoski pauses for a brief orientation on our photography walk
On Saturday evening, Venerable Nordzin spoke with us about compassion, as seen through the lens of Buddhist teachings. She spoke openly about the challenges that come of recognizing our own inner light, much less sharing it with others. "Soften your gaze," she said. "Greet one another –your own selves—with kindness."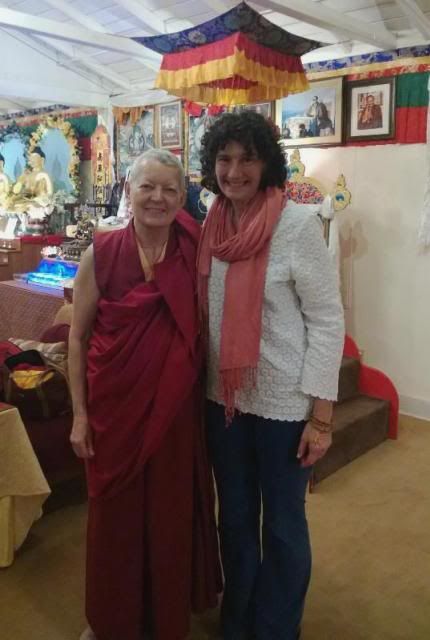 Venerable Nordzin and Megan McCarver
Tears of gratitude, joyful smiles—I witnessed both at the prayer wheel when we said our final goodbyes. We swapped email addresses and phone numbers, packed our belongings, and carried with us a treasure-trove of shared memories. And…on the way home, this happy couple got engaged!

Lori Nobel and Keith Spielman at Carmel Beach
The feedback from our retreat was at once heart-warming and affirming. Given the popularity of this event, Megan and I are pleased to announce two additional retreats at Land of Medicine Buddha!
Candles in the Window: A Yoga and Writing Retreat (with chocolate), June 6-8, 2014. This one's my baby. As with the 2013 retreat, we'll enjoy creative art journaling, yoga, photography walks, writing sessions, nature hikes, etc. Lynae Palmer (aka "Lusty Chocolate Shaman," of Earthhoney Chocolates) is bringing special treats for all of us, and–drum roll, please–author Jeannine Atkins is our featured presenter!! More information to follow, here and on Facebook, but if you have any questions/want to be added to our email list, just drop me a note. It's going to be an amazing experience, and you won't want to miss it!
Megan will host a retreat during the weekend of April 4-6, 2014. Her theme is in the works, so stay tuned! In the meantime, please mark those dates on your calendars.