I have a great deal to be thankful for, this week especially. So I apologize in advance for the length of this entry.
1.
At the Laguna Beach Sawdust Festival this past weekend, I met K.C., an artist who paints exquisite landscapes, birds, flowers and other delightful images. She derives inspiration from her own childhood experiences, here and in China, her country of origin. I selected two watercolor paintings of small birds, and she translated the accompanying poems for me in halting English. "Even the tiniest of birds has big wishes. They want to soar high in the sky," she said, hands fluttering like wings as she spoke. And then we talked about what that meant to each of us.
Through that brief encounter, I realized anew the power of art, in all its forms. It has transcendence, lifting us above and beyond specific circumstances and bringing us to a deeper place of connection. And so it was that we forged a connection: artisan, writer, friends.
2. I also visited Scott Schoenherr's booth, which was almost eclipsed by a giant eucalyptus tree, but definitely worth exploring. Inspired by everyday experience, his one-of-a-kind ceramic sculptures are anything but ordinary. (Browse when you can; they'll make you smile!) We got to talking about one of his pieces, which he called "Monarch," and he explained that the whimsical piece was, in fact, inspired by the monarch butterfly.
In the course of that conversation, Scott mentioned that he'd recently turned over a large portion of his garden to the milkweed plant, thus creating a feeding ground for that gorgeous winged creature during its annual migration. I have fond memories of the monarch butterfly, so I was excited to learn more about this beautiful insect from a backyard enthusiast. I remember seeing milkweed everywhere when I was younger, but as manicured yards encroached upon natural habitats, these butterfly sanctuaries are being lost. So today, I'm especially thankdful for people like Scott, who have dedicated themselves (and their gardens) to turning things around!
3. Kerry Madden wrote a wonderful blog post this morning at A Good Blog Is Hard to Find. It's gorgeous in its authenticity and tremendously inspiring, so I recommend you read the whole thing. But you know how it is when certain words jumps off the page and land in your lap? That's how it was when I encountered the phrase, "come-aparts":
"Mr. Negative gave me a serious case of the "come-aparts." Another student, not Mr. Negative, wrote about his mother and how she used to get the "come-aparts" after drinking a case of Tall Boys. (Horrifying? Impressive?) As an adult, he'd have to go over and calm her down with a "Momma, let's pray" when his own mild daddy couldn't do a thing for her." (Go on. Read the entire passage. We'll wait!)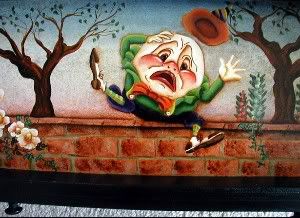 I haven't come across that expression for years! But the instant I saw it—all dressed up in quotation marks and dropped into a familiar context—I found myself thinking about the last time I'd heard it.
Colloquialisms like this are emotional anchors, tying us to specific situations. They provide our readers with geographic context and emotional authenticity. So I'm grateful to Kerry for this little flashback, and I'm hoping my own writing will be richer for her example.
4. Come-aparts and King's horses. We all suffer from this very human malady at one time or another, whether or not we like to admit it. Very recently, I was feeling a bit fragile, cracked open by circumstances beyond my control. I'm deeply thankful for the all the good eggs (including you) who helped me reassemble my Humpty Dumpty self. Whew, it feels so good to take deep breaths again! But I'd be remiss if I didn't also express gratitude for the lessons I revisited during that difficult time.
Image Credits: Monarch Butterfly on Milkweed plant via KidZone; Humpty Dumpty, by way of School of Blog. I took the photo of K.C. with my cell phone, and yes, this is how we dress in 60-degree weather.