san juan capistrano mission
Mission Cemetery, San Juan Capistrano
Today is St. Joseph's Day, when the cliff swallows traditionally return to Mission San Juan Capistrano. I say "traditionally," because the only swallows nests you'll find there today are the fake ones tacked in place for purposes of "historical interpretation."
(Picture and excerpted blog entry via
OC Historical Roundup

)
I'm writing today about my 4th-grade field trip to Mission San Juan Capistrano, the "crown jewel of the California missions." And in revisiting that experience, I find myself waxing nostalgic about the swallows–and to a broader significance, what it means to "migrate" and then return to one's original nest.
Last Sunday, my voice teacher and I took a field trip that spanned the sacred to the near-criminal. Long story, so you might want to settle into a comfy chair with your favorite beverage.
We began the morning at Unity Chapel by the Sea, where Stacy sang two songs for the morning service: a classic hymn ("There is a Balm in Gilead" and a contemporary piece (Ben Harper's "I Shall Not Walk Alone"). I was awestruck, as always, by the confidence that Stacy exudes on stage, and appreciated to the depths of my soul the expressiveness with which she sang the lyrics. She has the voice of an angel, and I mean that sincerely, and I yearn for the day when I'm finally able sing as joyfully and freely as she does.
After church, we fed our secular sides—that is to say, after meandering through a few shops in Old Town San Juan Capistrano, we ate lunch at the Tea House on Los Rios. (Those who are regular blog followers might remember that I visited this place with Mary Pearson awhile back). Here we are, looking all lady-like sassy in our tea house attire: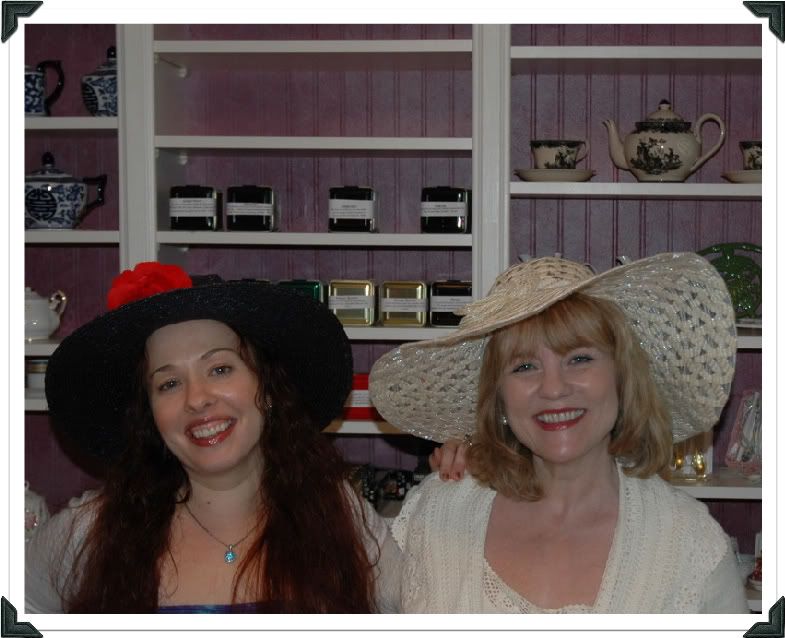 Stacy Pendleton selected a befeathered, wide-brimmed black hat, and I chose a glittery white "crown."
We chose the Mission Tea, a sumptuous spread that includes more food than one might ordinarily eat at a single sitting. Unless, of course, said person is carbo-loading for a Nancy Drew-type caper. Which, as luck would have it, we were! We just didn't know it…yet.
We'd initially planned to spend the afternoon at Mission San Juan Capistrano, but time slipped away, and so it was that several hours later, I steered my roadster Subaru in the direction of the "Old Mission Cemetery," an historical treasure that I first read about on Chris Jensen's blog, O.C. History Roundup. It's about 1/4-mile from the SJC mission itself…roughly two acres of ancestral graves, tucked into a quasi-suburbian sprawl of bland offices and ramshackle houses. Here's one of my favorite vantage points: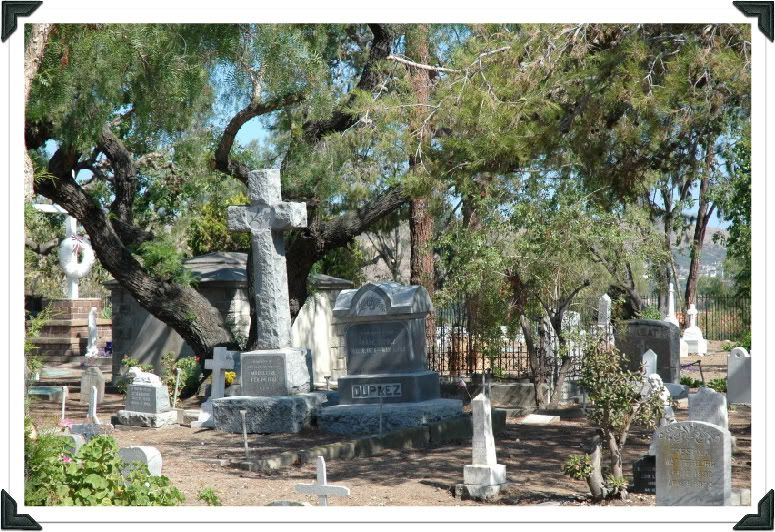 Some historians assert that a smallpox epidemic in the 1860s created the initial need for this overflow cemetery, but according to an article in the L.A. Times, the hilltop property was designated as a burial ground nearly a century earlier. This burial spot's certainly not without its share of controversies, and for those of you who love ghost stories (I'm looking at you, Kim Baccellia ), Weird California suggests that it's haunted.
La Llorona's spirit may have her run of the place, but we were wearing our Sunday-go-to-meetin' clothes, remember? Plus, the cemetery gates are padlocked. And also? I'm no gazelle askeered of heights. But curiosity trumps all, including stacked heels, so we inched along its stucco walls and wrought-iron fences, latching onto eucalyptus trees, lest we tumble down the steep embankments.
But it was so worth the effort. Without going into each of the particulars, I'll just say that we were deeply moved by what we saw. Ashes to ashes, dust to dust, and so it is that wooden crosses are nestled among marble obelisks, and the sun shines down equally on the resting places of Native Americans and Civil War veterans, religious folks and politicians, tiny babies and early settlers.

In death these dearly departed were separated from their loved ones, and in this final resting place, they're walled off from the rest of the world.
Here, two grave markers that nearly broke my heart. Don't you want to know more about the precious little lamb, buried beneath the rocky soil so long ago? And the beloved, long deceased, whose granite cross is adorned by that delicate necklace?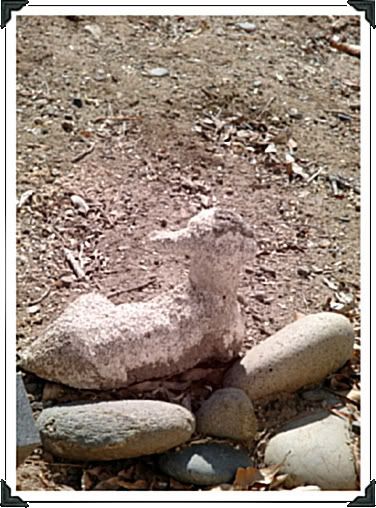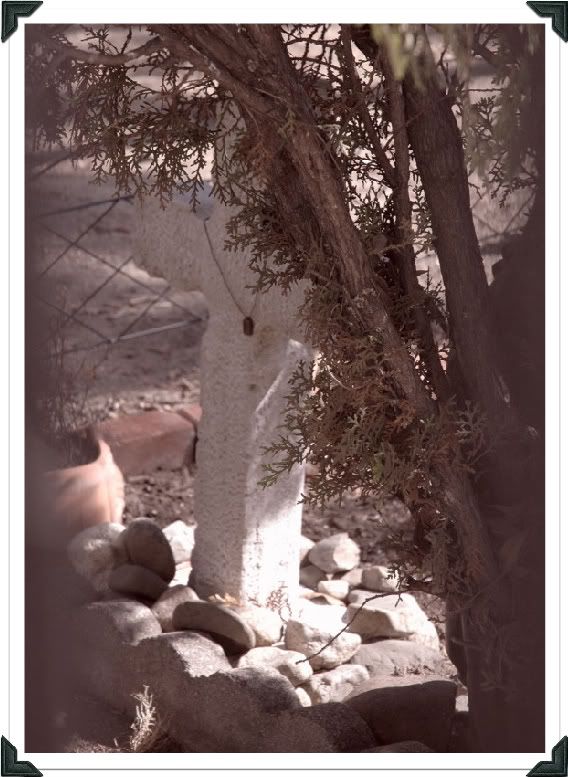 Angelic as her voice is, Stacy has a wild streak. I blame her for what happened next. "If we were wearing something less fancy," she mused, "I just might be tempted to climb over that fence." And of course, you know that set my mind a-whirling! I was actually measuring the cash value of my outfit against any possible risks borne of scaling the wall. (Not too seriously, mind you, should any cemetery officials happen stumble across this blog entry by accident.)
"Hmmm," I said, in a devious noncommittal voice. But lo, I was sorely tempted! I twisted the camera lens, bringing the far side of the cemetery into focus. And uh-oh! What to my wondering eyes should appear, but a posse of sheriff's deputies, staring back at me! Time to skedaddle, we decided, but as I strapped on my seatbelt, I got to wondering, as is my wont. Where were those cops standing, exactly? And also: Do you suppose the view is any better from their side of the cemetery? One question led to another, and next thing I knew, Nancy Drew and her sidekick were on the case!
We stumbled upon their location by expert sleuthing accident—the peak of a steep, twisty road that wasn't much wider than my roadster. I navigated slowly up the narrow passageway; like a sidewinder, we snaked among the chaparral toward the top. (Are you still remembering my phobia re heights?) And when we finally reached the pinnacle…well, let me just show you the view.
Yowser! Three police cruisers in front of us, one straight ahead and two hidden around the bend. Brave souls Good citizens that we are, we backed slowly down the hill, one hairpin turn at a time. And so it was that we made this harrowing escape continue this adventure another day.
Directions to the cemetery, via Chris Jensen, O.C. Historian Extraordinaire: Exit the 5 Fwy at the Ortega Highway, turn left onto Ortega Hwy, turn left again at Rancho Viejo Rd (which is the first opportunity you'll have to make a left). Turn left again on Avenida Los Cerritos and take it until it dead-ends. The cemetery will be on your left, behind a low wall, surrounded by office parks and such. The cemetery can actually be seen on Page 972, grid D-1, in a standard Thomas Guide map book. It's marked "Mission Cem."