I am honored and excited to participate in this year's ONE WORLD ONE HEART Blog Event!
ONE WORLD ONE HEART was started in 2007 by Lisa Swifka, aka A Whimsical Bohemian, as a way to bring together bloggers who might not otherwise meet. It's not about spreading a political message or promoting a social agenda—its sole purpose is to help foster closer relationships among all peoples of the world, using the internet as our conduit. And to sweeten the pot, we'll give and perhaps receive fabulous prizes! (Wow, I'm ticketholder #994, and more people are being added all the time! Read more about OWOH here.)
MY ONE WORLD ONE HEART GIVEAWAY: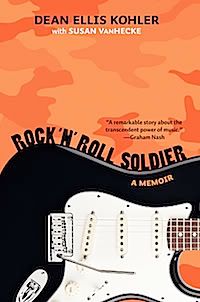 I'm offering an autographed copy of ROCK 'N' ROLL SOLDIER. Co-authored by Dean Ellis Kohler and Susan VanHecke, this powerful memoir was nominated for the 2009 Cybil Award for Nonfiction and is, in the words of Graham Nash, "A remarkable story about the transcendent power of music."

Also, I'm pleased to announce that Susan VanHecke has agreed to join me In the Author's Tent. A successful author of books for young people and grown ups, Susan specializes in history and true stories about fascinating people. I'm hoping she'll share some of her craft-related insights (about memoir, especially), and I'd love to get the inside scoop on some of her pet projects. More about that on February 15th, when I post the winner of this give-away. Stay tuned…
THE RULES:
Leave ONE comment on this blog entry. Maybe name your favorite musician, or tell me one of your favorite songs.

All "anonymous" comments are moderated, so if you're not a member of LiveJournal, your entry won't be immediately visible. Inappropriate or auto-generated comments will be deleted.

Be sure your comment leads me back to you, either through a link to your blog or an email address where you can be reached.

Contest entries must be posted here by 1:00 p.m. Pacific Time on Valentine's Day (February 14th).

I will use a random number generator to select the winner.

The winner will be announced on this blog on February 15th and will be notified by email. (NOTE: If the prizewinner does not respond to my email within 5 (five) days, I will select another winner.)

The prize will be sent via USPS.