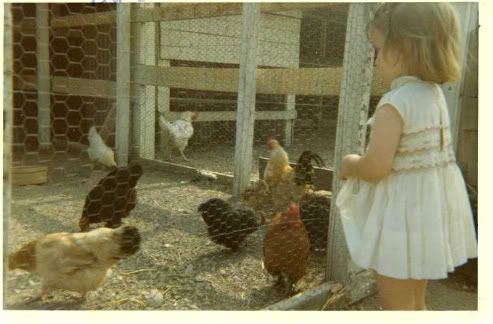 My baby sister, Mei-Ling, at Knott's Berry Farm (age 3)
Just a few more days of summer, and then…whoa, are we really headed into September??
I'm not one who likes to turn the calendar page prematurely, so how 'bout I post a photo retrospective of my weekend trip to Oregon? (See also: things I did on my summer vacation.)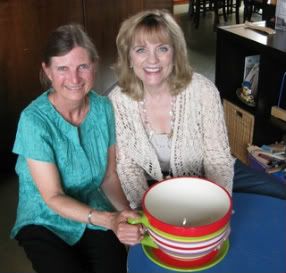 amp; me, perched on child-sized chairs, sharing a giant cuppa tea at Tazza's in Beaverton. I could have lingered with her for days and days….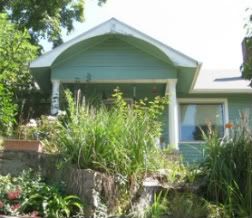 Here, one of the many houses in which I lived…one of several in the Portland area alone.

A happy reunion with Roi San, who was a source of light for me in high school. I consider her a kindred spirit to Luz, whom I wrote about in DEAR BULLY.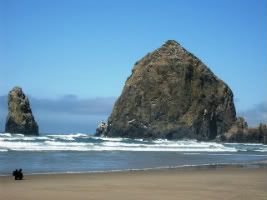 Haystack Rock, in beautiful Cannon Beach. (See the pint-sized Scottish Terrier–a small black dot at the water's edge? I loved that he wagged his tail at every incoming wave.)

I spent a sunny afternoon in a Portland-area park. My sisters and I swapped childhood memories–some savory, some sweet–over a delicious picnic lunch. Left to right: Mei-Ling, me, and Sheryll.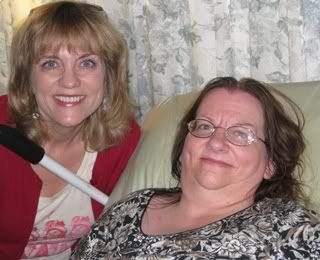 A bedside visit with my sister Heidi. Brave girl, she's held MS at bay for many, many years. She has very little mobility, and no sensation in her fingers, but boy howdy, that girl can paint!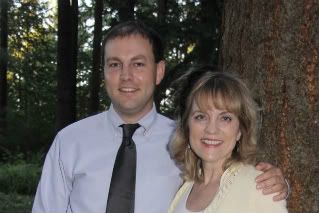 The outdoor venue for my niece's wedding. I may be biased, but I think my escort's kinda cute (meet my son David, if you haven't already.) It's a bit hard to see–and perhaps harder to believe–but I'm wearing a befeathered fascinator in my hair.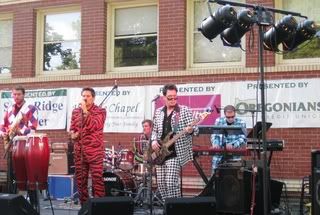 Action Slacks performed live in Oregon City, as part of their Concert in the Park series. I'm one of their ultimate fan girls, and not just 'cause David's at the keyboard. (Lovin' those retro outfits? You can purchase one of your very own from Loudmouth Golf (Action Slacks' corporate sponsors).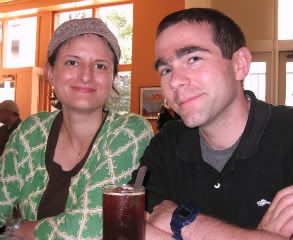 After a leisurely stroll through Portland's Saturday Market, we cooled our heels a Bijou Cafe. Pictured here: Steven, my oldest son, and Tzipporah (his wife).
Now that I'm back, I'm looking forward to catching up with all the latest at your end! xoxo
Our house feels much emptier today, now that my sister and niece have gone back to Portland. I miss them already, so to extend their visit (at least in my own mind), I thought I'd post a few photos from our weekend adventures.
First stop: the San Diego Zoo!


A koala, doing what koalas do best.


A polar bear contemplates global climate change.
Gorgeous ginger blossoms!


Mama panda nuzzles her playful cub.
A gaggle of gossiping flamingos

Next on our list: a blissful respite at the spa, followed by a raucous evening at the Orange County Fair.
Seems as if fair food gets more outlandish every year, doesn't it? But Templeton my husband was in Hog Heaven! I had BBQ'd chicken and roasted corn. Again. Which, by the way, was delicious. For dessert, I had sugar-free Dippin' Dots. (My dinner menu seems a bit self-righteous boring, I confess, now that I've typed it up for public consumption.)
Peep show! The animal exhibits are my favorite part of the fair, followed closely by arts and craft displays. Congratulations to my friend Stace Dumoski, who had TWO photos accepted for exhibition this year!


My heart ached for this beautiful giant, who was forced to ferry passengers around the perimeter of a miniscule enclosure.
Of course, no SoCal visit is complete without at least one trip to the beach. So after wandering around a Farmer's Market in Long Beach, we took a stroll along the boardwalk in Laguna.
A lifeguard station on a quiet stretch of sand. But bleh, don't look too close: that lifeguard's performing (what should be) a private search-and-rescue operation. :/
The marine layer moved onshore a little earlier than usual, and since our visitors hail from the Pacific Northwest, they were amused by our comments about "overcast" skies.


Toby's crashed out on my husband's keyboard this morning, completely exhausted by all the activity. But I'm ready and eager to go at it again, so hurry back, Mei-Ling and Arielle! xoxo