Belasco Theater lobby, via la.curbed.com. (My related Nancy Drew adventure is posted here.)

My Nancy Drew adventure this past Wednesday was so exciting, I cannot begin to tell you. After years of wondering (and worrying) about the fate of one of my favorite buildings, I was granted an all-access pass to the Belasco Theater in downtown Los Angeles!
The Belasco Theater first opened its doors in 1926, but at the point where my memories intersect with its history, the building belonged to A. Earl Lee of Immanuel Gospel Temple. Much of its original architecture–including a domed ceiling, fresco paintings, and magnificent wood carvings–survived intact. But until just recently, the building was looking a bit tired and frayed. My heart sank whenever I drove by the place: I couldn't help comparing its deteriorating condition to its former splendor. So here's the good news: It's being restored to its original glory! And lucky for us, my sister Coral and I were treated to a sneak-peek tour, in advance of its grand re-opening.*
In return for that privilege, I promised not to post pictures of the theater's interior –at least not until the restoration work is finished (likely, sometime later this year). But for my Friday Five, I thought I'd share a few photos of the building's exterior. In no way do they reflect the full and true beauty of this historic treasure, but I'm hoping you'll enjoy these brief glimpses of its past, present and future.
(UPDATE: I found several interior renovation shots on Flickr. They appear to have been taken several months ago. Operating under the assumption that the photographer received permission to post them, I'll link to them here.)
Belasco Theater, at 10th and Hill in Los Angeles. A roll-up security screen temporarily masks the grandeur of the ticket windows and theater doors.
An historic (and perhaps ironic) juxtaposition of the sacred and secular.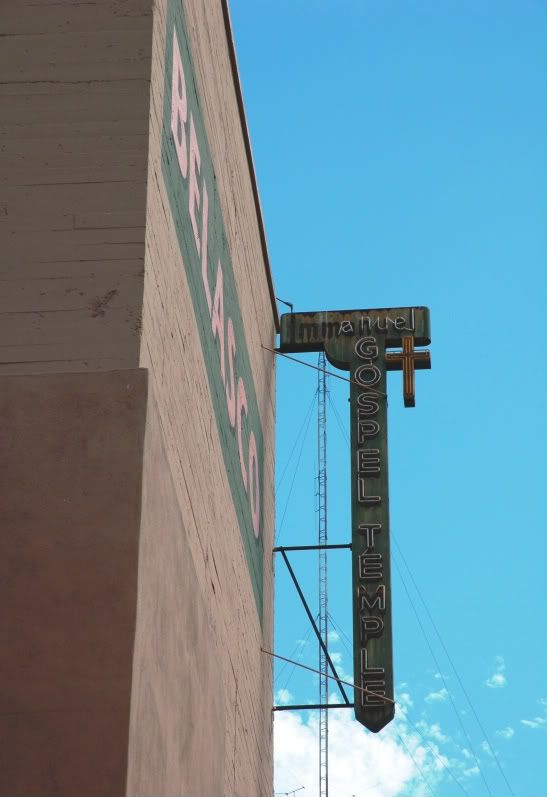 A stalwart reminder of Immanuel Gospel Temple's historic claim to this site. This neon sign–and those in the preceding photo–are on the side of the building facing 11th Street.
A child's-eye view of its architectural wonders.


At the end of our visit, our hearts were full–as was my camera's memory card. But all that sleuthing left us hungry, so we enjoyed a midafternoon meal at the kabob place around the corner, After that, we were well and truly satsified, so we turned our roadster toward home.
*Special thanks to Sharon Dominguez, Belasco Theater's Director of Corporate Communications, for making our visit possible. I cannot begin to express our gratitude for her generous hospitality.