Yesterday, a dear friend and I enjoyed a luxurious afternoon together in Laguna. What better place to celebrate her birthday than the beach? The marine layer dissolved as we drove through the canyon, and by the time we reached Pacific Coast Highway, chrystalline waters were kissing the sparkling blue sky.
We ducked into a gorgeous art gallery, where we fell in love with this painting, and then we stopped at a beachside restaurant for lunch. Time ticked by and as the waves rolled in, we savored our friendship over this festive lunch.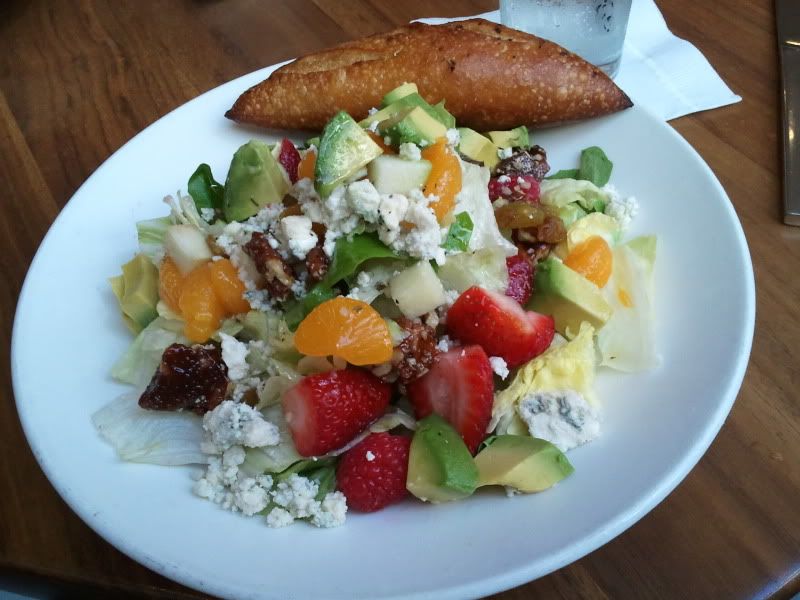 .
Already this morning, the mockingbirds are fighting the goldfinches and hummingbirds for backyard dominion. There's no sign of autumn in our backyard, unless you're one to notice the angle of the sun as it's filtered through pepper trees and palms. Maybe we'll see some fall foliage on the way to Los Angeles. I'm always up for a field trip, but this one's particularly exciting: We're going to see "Leap of Faith," the Broadway-bound musical, at the Ahmanson Theatre!
So much has changed since I was a young girl, criss-crossing the country in the crowded sedan that towed my father's canvas cathedral! It's a miracle, really. We're not wealthy by any means, but I am rich in my friendships, and I've got a storehouse of happy memories like these. It isn't all wine and roses, of course. I struggle with fears and uncertainty, just like everyone else. Insecurities still linger; they're just dressed in different clothes. But even if everything vanished again tomorrow, my heart would still be full. For I know with a certainty that joy cometh in the morning…that I've been well and truly blessed.