It's my privilege to host Varian Johnson in the Author's Tent today. This is the first stop on his blog tour for SAVING MADDIE, which hits the bookstores on Tuesday. Coincidentally, tomorrow is Varian's birthday, so I'm going to celebrate both occasions by giving away two copies of his novel.
ABOUT THE BOOK
Joshua Wynn is a preacher's son and a "good boy" who always does the right thing—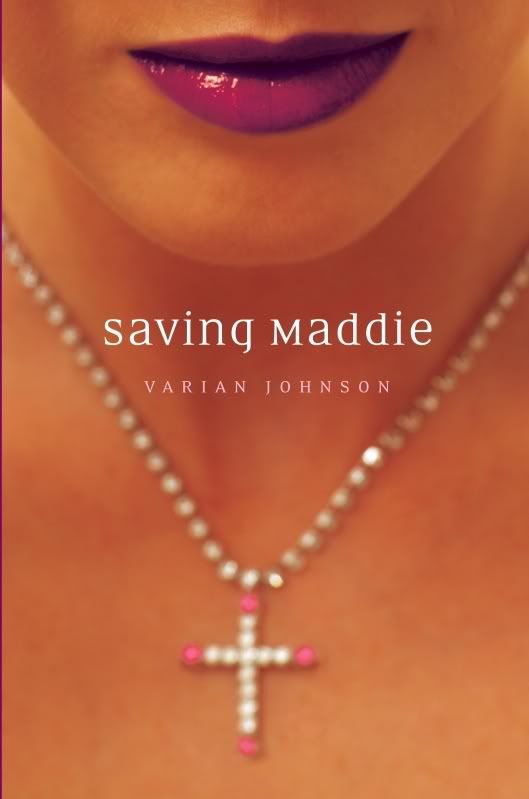 until Maddie Smith comes back to town. Maddie is the daughter of the former associate pastor of Joshua's church, and his childhood crush. Now Maddie is all grown up, gorgeous—and troubled. She wears provocative clothes to church, curses, drinks, and fools around with older men. Joshua's ears burn just listening to the things she did to get kicked out of boarding school, and her own home.
As time goes on, Joshua goes against his parents and his own better instincts to keep Maddie from completely capsizing. Along the way, he begins to question his own rigid understanding of God and whether, as his mother says, a girl like Maddie is beyond redemption. Maddie leads Joshua further astray than any girl ever has . . . but is there a way to reconcile his love for her and his love for his life in the church? [from Varian's website]
This contemporary YA novel is at once a love story and a spiritual quest. The main characters are relatable; the storyline, courageous and compelling. I love that Varian allows Joshua and Maddie to venture into dangerous, unpredictable territory. I also appreciated the nuanced storyline, which invites readers to consider religious themes from multiple angles.
ABOUT THE INTERVIEW
In this wide-ranging conversation, Varian talks with me about religion, cover art, stereotypes, blackberry cobbler and more. Sound good? Grab your all-access pass and go! (Leave a comment about our Q & A session, and you'll be automatically entered in tomorrow's drawing.)
ACT ONE: SAVING MADDIE
Thanks, Varian, for visiting with us today! A while back, you summarized SAVING MADDIE as a book about (among other things) "Proverbs Chapter 4 vs The Parable of the Lost Sheep." Will you please elaborate, for those who might not be familiar with those Bible passages?
Proverbs Chapter 4 is titled "Acquire Wisdom" [NASB] and is a father's instruction to a son. The passage begins with the father telling his son to seek out learning and understanding, and not to forsake his teaching. But the father also encourages the son to stay on the path of the righteous, to avoid the way of the wicked, to keep his gaze straight ahead. I've always juxtaposed this passage with the Parable of the Lost Sheep, where a shepherd leaves ninety-nine sheep to find one that is lost in the mountains. Unlike the chapter from Proverbs, the Parable of the Lost Sheep is an example of when we're supposed to veer off the safe, lighted path.
In the context of Saving Maddie, those two passages lead me to three questions: As a teenager growing into adulthood, how do you know when you're supposed to stay on the path and when you're supposed to veer off? How can you stay on the path of the righteous if the people who are in most need of saving walk a very different path? And is it worth endangering others, or even yourself, to save that one lost soul.
Of course, this is all based on the idea that one needs saving, which is an important question in itself. I'm not entirely convinced that Madeline needs saving—at least not in the traditional sense.
Joshua is fixated on Maddie's physical characteristics—from her blackberry-colored lip gloss to her freckled brown skin and ample curves. Since your book is written from his point of view, it's not surprising that Joshua doesn't drop any hints about his own appearance. That said, I'm wondering if you pictured him in your mind's eye as you were writing the book; and if so, would you please describe him for us now?
I—like Joshua—was so fixated on Madeline, I never really considered how he looked. The few times I did think about how he looked were always in comparison to her—he's skinnier than her, and taller, and his skin is darker. I think he has long, lean fingers compared to hers, and while she is a dancer, he's a bit of a klutz. Other than details like that, I never really thought about how he looked. I'm actually curious what Maddie would notice if she were trying to describe him.
In SAVING MADDIE, Joshua and Maddie are portrayed as outsiders, albeit for different reasons. As the daughter of a tent preacher, I could easily relate to their struggles. I confess, however, that in the opening pages, they seemed to me somewhat stereotypical (Goody Two-shoes, meet Jezebel). In your view, do they behave like most teenagers who've been raised in ministerial families?
Hmmm…this is a tough question to answer without over-explaining my take on the novel, but let me give it a try…I think at first glance—to both the readers as well as Joshua and Maddie themselves—they are stereotypical. And I think a lot of the stereotyping is as much Maddie and Joshua's fault as it is their parents and the community's fault. At the beginning of the novel, both Joshua and Madeline's actions encourage others to see them in very confined, two-dimensional ways. It isn't until we see Joshua and Madeline truly begin to interact that we start to see more of their real selves. It's Joshua who forces Madeline to see herself as more than the Jezebel, just as it's Madeline who forces Joshua to break out of his "Goody Two-Shoes" mold.
And I'll just add that this is totally my own opinion; each reader brings his or her own thoughts and experiences to the novel, and readers have just as much of a right to comment on the realism of the characters as I do.
Given that each story can be told from a multitude of perspectives, what do you think Maddie might say about the way Joshua portrays her?
I think Maddie would say that Joshua's "putting her on a pedestal" –treating her like someone she's not. To a degree that's true—Joshua wants so badly to overlook some of Madeline's worse points. But as I said in an earlier response, I think Joshua's more right about who the real Maddie is than Madeline herself is.
I was awestruck by Fantasia's performance in THE COLOR PURPLE; when she sang "I Am Here," she brought down the house. So when I encountered a passage about THE COLOR PURPLE in your novel, I found myself nodding in agreement. "Most folks are so focused on Celie, they forget about Shug," Maddie says. I think I can guess what she was hinting at there, but if you wouldn't mind, I'd love to read your explanation.
All I'll say is that Celie isn't the only victim in The Color Purple. Sure, perhaps Shug Avery brought some of her grief on herself, but it doesn't make her story any less heartbreaking. She's a victim of her own love for life and search for happiness. And as much as Shug Avery disappears and reappears, she always remains a true friend.
ACT TWO: WRITERLY STUFF
Unlike most authors, you were allowed creative input into your cover design. "It gets across everything the novel is about," you said at the time, but the cover art has generated a bit of controversy since then. Would you like to address those criticisms here?

I think it's a great cover. There have been a few comments about the skin tone, but after looking at the final cover, I think the character looks like a light-skinned African-American girl. Of course, folks may disagree, and that's okay. The novel's not what I'd call "race-specific"—Joshua's never explicitly identified as African-American (though I do see him in this way), and the only reference we have to Madeline's ethnicity is via Joshua's comments about her brown skin.
Was I making a statement by doing this? I don't know…perhaps. I certainly don't think the ethnicity of the characters is important in THIS story—the characters are Southern and religious, and that's what I was most intent on getting across. Also, I didn't want to manufacture a scene where the characters were commenting on their "blackness"—that just seemed silly.
As more people read the novel, I'll be very curious to see what they think about the race of the characters—if they see Joshua as black or white or whatever. And, I'll be curious if they think the lack of specific race identifiers somehow weaken the story.
I've actually been a bit more surprised by the comments about how the cover relegates the novel to "Girl Only" status. Truthfully, I was so focused on the skin and lip tone of the character, I didn't stop to think about the boy-appeal of the book. I do hope that boys will pick up the book (I would have) but I can see how some boys would steer clear of the purple and pink cover.
Your publisher calls SAVING MADDIE an "issues-driven, star-crossed love story. One of the strengths of this book is that you addressed questions about the human condition and our spiritual choices, without becoming overly sentimental or preachy. When writing an issues-driven novel, how do you keep your characters from turning into pawns, subservient to a predictable plot?
I think the key is to make sure that the issues never get bigger than the characters, if that makes sense. Of course there are specific themes that I wanted to explore with my novels, but the characters are how I get those themes across to the readers. The characters have to be true, have to have realistic wants and desires, have to have flaws. If they don't, they will fail, and so will the novel.
I understand that you are an engineer by day and a novelist by night. Does one occupation fuel the other, and if so, how?
It's less that they fuel each other and more that they don't compete. I like that I'm using one part of my brain for writing and the other for engineering. It helps me from getting burnt out.
How would you describe your writing habits? Do you fly by the seat of your pants, or do you adhere to a strict daily regimen?
I try to stick to a fairly strict schedule. With the day job and various other responsibilities, I often have to force myself to write early in the morning, during lunch, etc. When I'm in the thick of a first draft, it's easy to get swept up in the passion of writing, but when I'm struggling to put pen to paper, I really need that strict schedule to keep me honest. [NOTE: Writers might also enjoy reading "Varian Johnson on Battling Time Suck."]
What's the most surprising thing you've learned about yourself by writing?
I've learned that just because I'm the one writing the book doesn't mean I'm the one with all the answers. I'm constantly surprised what I learn about myself via my characters.
ACT THREE: LIGHTNING ROUND, in which Varian answers either-or questions that may (or may not be) tangentially related to his novels.
Blackberry cobbler or vanilla bean cheesecake?
Blackberry cobbler
Calculus or literary analysis?
Tough one…have to go with literary analysis
Polka dots or plaid?
Plaid
Data analysis or leap of faith?
Leap of faith
Jose Cuevas or Starbucks?
Starbucks…I need all the caffeine I can get!
Thank you, Varian, for joining us in the Author's Tent! I wish you all the best in bringing Joshua and Maddie's story to a wide audience of readers.
SAVING MADDIE is Varian's third novel; his previous books include MY LIFE AS A RHOMBUS and RED POLKA DOT IN A WORLD OF PLAID. If you'd like to cointinue following his blog tour for SAVING MADDIE, here's the itinerary:
Tuesday, March 9th – Ari at Reading In Color
Wednesday, March 10th – Gwenda at Shaken & Stirred
Thursday, March 11th – Melissa at Book Nut
Friday, March 12th – Edi at Crazy Quilts
You can also keep in touch with him via his blog, Facebook, and Twitter.

Don't forget: I'll be picking two lucky ARC winners from among those who comment on this entry between now and noon (12:00 Pacific) tomorrow.
If you enjoyed this interview, please let us know. I invite you to also visit the Author's Tent archives.