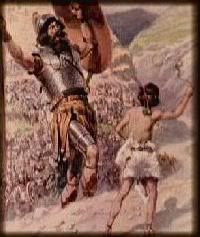 On Tuesday, I'm headed to Sacramento, to lobby California Assembly Members assigned the first hearing of my proposed bill. Again, and in brief, AB 2165 would prohibit student athletes at public colleges and universities from participating as a member of any intercollegiate team, or as a participant in any intercollegiate athletic event, if they are convicted of a violent felony. (You can read more about this in my previous posting, "A Rosa Resolution.")
Already, I'm learning lessons about our democracy: about the power and powerlessness of a single voice trying to be heard above the din of highly-funded and powerful special interest groups.
The fact that I'm the proverbial David, going up against Goliath, seems to have affected who's been willing to see me, and when. When I call politicians' offices, they invariably ask "What agency are you with?"  When I respond that I am representing myself and the citizens of California, there's silence on the other end, while the receptionist calculates the fact that I'm a lone voice, speaking without the power of a lobbyist's purse. The sum of that equation equals access to staffers – I'm not scheduled to speak directly with any Assembly members at all.
But I'm not retreating from the battlefield. Even if I don't have powerful ammunition in my arsenal, I've got five smooth stones in my sling: truth; commitment to justice; courage in the face of adversity; dedication to my principles; and a fierce loyalty to my son and my family, who've endured the pain that led me to propose the bill in the first place.
Up against me this week – and in the Committee's hearings the following week – are the Goliaths who've lined up huge armies, fully armed and ready to fight. Here's what they've already said about the bill:
·
It is discriminatory, because if we are concerned with student safety, we should include all extracurricular activities.
·
It's unconstitutional, taking away rights that belong to the athletes, regardless of what crimes they've committed and when.
·
Sports are a means to turn one's life around – why should they not have a chance if they have served their time.
·
The bill undermines local control – should this not be up to local districts?
Some of their insights are useful; others, I believe are straw men, setting up false arguments to sidetrack politicians from the real issues at hand. Either way, it's important to address each of them, so I'll spend time refuting or incorporating their feedback into my presentation.  I'm girding my loins for battle, in whatever form it takes.