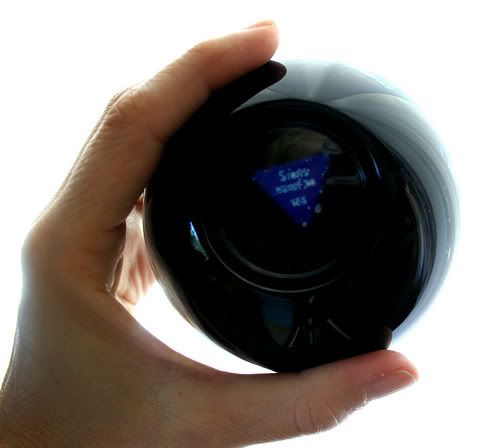 Whew, I've been writing my heart out these past few weeks! I've written lots of pages and chapters, and I'm getting ever closer to The End. But I'm taking a break for New Year's Eve–it's party time, don't you think?
I'm planning to continue my 2008 theme into the new year, but I'm adding another one for 2009. More on that when New Year's Day actually arrives! But while we're ringing out the old year, I thought it might be fun to make some predictions about next year, courtesy of my new Magic 8-Ball.

Go ahead: Offer up your wildest wonderings to the Magic 8-Ball's discerning powers! Write your question in the comments section, and I'll post the answer exactly as it appears in the Magic 8-Ball's blue Window of Fate.
Happy New Year's Eve, everyone! I'm predicting 2009 will be our best year yet!
(image depicted is a representative model, for illustrative purposes only. Photo credit.)