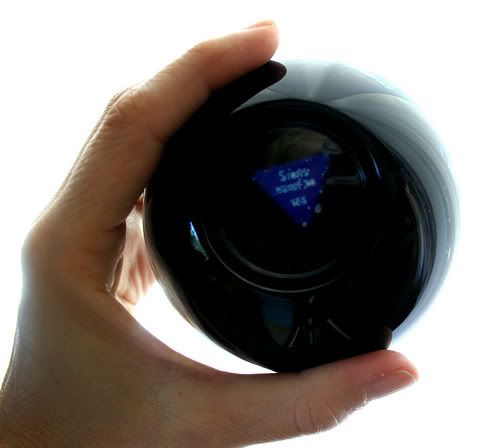 It's too soon to pop the champagne cork. And the fireworks won't start for several hours. Still, there's no time like the present to start ushering in the New Year, so…let's set the stage for 2011 with an encore performance of Magic 8-Ball predictions!
Wondering what 2011 holds in store for you? Ask the Magic 8-Ball! No need for "psychic hotlines" or mass-produced fortune cookies…when you consult the black Orb o' Answers, you'll receive a personalized prediction.
The rules are simple:
DO address the Magic 8-Ball with all due respect ("Oh Magic 8-Ball…" or something similar).
DO submit Yes/No questions.
DO concentrate as you click on the "post comment" button.
DO ask as many questions as you'd like, but enter them as separate comments.
DON'T be deterred if the Magic 8-Ball tells you to ASK AGAIN LATER.
DON'T take the Magic 8-Ball too seriously, but please accept my sincere wishes for the happiest New Year ever!
While you're waiting for the Magic 8-Ball's 2011 predictions, take a quick glance in the rear view mirror. What did you ask the Magic 8-Ball on New Year's Eve 2009, and how accurate were its answers?